Planet X_route
http://www.ainews1.com/article584.html
ผังวงโคจรของดาว Planet X

Resonable guideline การเดินทางของ PX ที่คุณ Zeta เห็นว่าพอใช้เป็นแนวทางได้ นักดูดาวสมัครเล่นได้บันทึกภาพ การเดินทางขาเข้าเอาไว้ (ปัจจุบัน PX กำลังเดินทางขาออก กลับเข้ามาในเขตสุริยจักรวาล ใกล้ดวงอาทิตย์แล้ว พร้อมกับส่งพลังงานสนามแม่เหล็กที่ทรงพลังมาก ร่วมกับพระจันทร์ของมันอีกกว่า 29 ดวง และฝุ่นพิษแม่เหล็กสีแดงที่หางอีกมหาศาลทีเดียว... (ยามดึกของคืนวันที่ 12 มิ.ย. 2554 ฟากฟ้า กทม. มีเมฆบางๆท่ามกลางพระจันทร์ขึ้น 11 ค่ำ มีสีแดงระเรื่อไปทั่วท้องฟ้า ออกมาดูตอน 5 ทุ่ม อยู่ชั่วครู่ รู้สึกคันตามตัว จึงรีบกลับเข้าไปอาบน้ำทันที ...คงต้องเรียกหาคาลาไมด์กันบ้างแล้วถ้ายังไม่หายคัน >>

ฝากผู้สนใจคอยเฝ้าสังเกตท้องฟ้า ตั้งแต่ตอนนี้ไปเรื่อยๆ น่านฟ้าเมืองไทยเริ่มถูกปกคลุมด้วยฝุ่นสีแดงของดาวหาง ที่อยู่ไม่ไกลโลกมากนัก รวมกับฝุ่นกัมมันตรังสีจากโรงไฟฟ้าของญี่ปุ่นอีกด้วย...สิ่งแวดล้อมที่เลวลงเรื่อยๆ ผู้ที่มีภูมิต้านทานน้อยจะป่วยง่าย จึงต้องระวังรักษาสุขภาพของตนเข้มงวดขึ้น และเลือกหาวิธีป้องกันตนเองในพิษภัยที่อาจเข้าใจยากซักหน่อยด้วย) รบกวนสนามแม่เหล็กของดาวเคราะห์ต่างๆ ที่มันผ่านเข้ามาในแนวทะแยง มุมกับ ecliptic 32 องศา ก่อนเจาะทะลุระนาบโคจรปกติของโลก โคจรจากไปยังดาวคู่แฝดของดวงอาทิตย์ที่อับแสง....นักสังเกตการณ์บนท้องฟ้าทั่วโลก จึงเห็นและถ่ายภาพระหว่างที่มันปรากฏตัวอยู่เคียงข้างดวงอาทิตย์ พร้อมๆกับแสดงฤทธิ์เดชส่งพลังงานสนามแม่เหล็กลงมาก่อกวนแมกม่าในแกนกลางของโลก ที่มีขนาดเท่าๆกับพระจันทร์ ให้แปรปรวนเคลื่อนตัว

Second Sun sightings occurred in the Summer and Fall of 2003. Then it crossed over Earth's orbit and came closer to the Sun, but not before Earth encountered it round about Dec 25, 2003. At this point, and since, Earth has been halted in her orbit and Planet X, in its retrograde orbit, is pushing her back in her orbit. Thus, Planet X is seen close to the Sun, slightly to the right of the Sun from the Northern Hemisphere. Ra and Dec no longer apply, as the Sun is the direction you should be looking, with some lens to reduce the glare.

When the movement of Planet X reaches the point where it has progressed to 195°, then severe leaning and tilting of the Earth can be expected.

In July, 2004 Planet X was close enough to the Earth, having the Earth in its grip and squeezing these 3 planets before it in the cup (earth, venus, and earth's black twin), that a change in the regular reaction of the Earth to the Sun's sweeping arms was noted by Nancy. As stated "A pattern of 11-11-8-8-8 days between Sweep Sets with a One/Two/Three jolts in each set was noted from April through June but by mid-July the sweep pattern changed to include a Four/Five, the almost continuous activity predicted by the Zetas, so it became difficult to discern the sweep sets." At this point, in the crop circle, Planet X is near the Sun, creeping past the Sun, and time stands still for this crop circle, awaiting the time of the outbound passage.

But there is a mirroring of activity on the outbound phase. For the year following the passage, the planets that had been caught in the cup right themselves and find their old orbits and place, while Planet X disappears from view.

Do you suppose Planet X remained in place, unaware of this bit of breathing room? Of course it turned, filling the gap and progressing along its 270° roll, so now Planet X is once again poised to point its N Pole toward Earth and the hammer will return! This is a dance that will not end until Planet X has passed the Earth, outbound, leaving the Earth twisted and shaken behind it. The Earth cannot escape, and the progress of Planet X will not halt.

ZetaTalk Explanation 6/20/2009: This is a genuine circle and not a hoax. It was amended on the two days following to show a progression. We have explained that in the last weeks the Planet X complex will come visible, fully visible, to all mankind. Of course, Planet X is visible now, on occasion, as a Second Sun or object with tail on SOHO images, but we are talking about a visibility that cannot be denied. The complex will look as large as the Sun, approaching from the direction of the Sun. At first the appearance will be of an irregular orb, striated. By the next day, the tail will be visible and unmistakable. By the third day, the double helix appearance which showed up as Planet X made its entry into the inner solar system will be visible.

Magnetic Eddy
A new appearance of the Earth's magnetic field made an entry on the Magnetic Simulator on November 24, 2010 - what the Zetas called an eddy flow of magnetons coming from the N Pole of Earth. Planet X is steadily moving closer to the Earth, and thus the increase in strength and in particular, the large area covered by these blasts from the N Pole of Planet X. Thus, the eddy flow appeared.



(โลก ดาวศุกร์ และดาวดำคู่แฝดโลก จะตกอยู่ในถ้วยเอ๊ดดี้ ประมาณ 2 เดือน ในคราวขาเข้า คาดว่าในขาออกที่กำลังจะเกิดขึ้น น่าจะใช้เวลาพอๆกัน)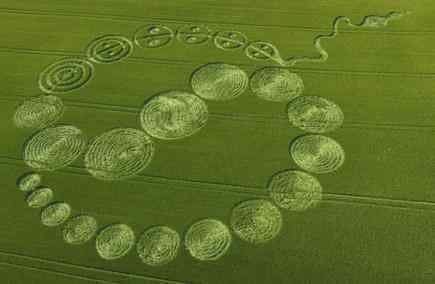 New crop circle formation Walbury Hill, nr Combe, Berkshire. Reported 12th June. What Zetas can say about this "snake" formation?
http://www.cropcircleconnector.com/2010/Walbury/
Walbury2010a.html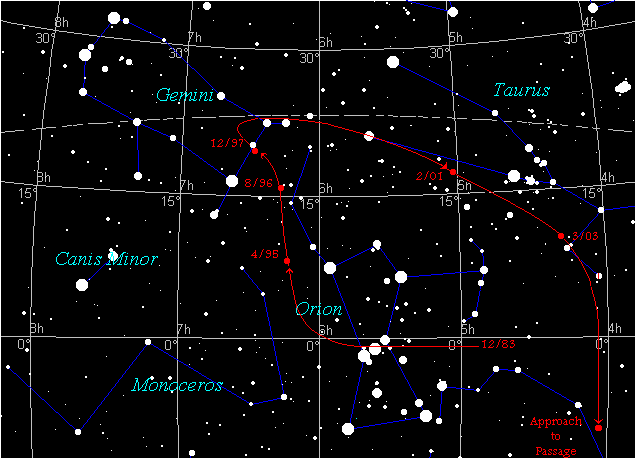 Planet X has a contorted path coming to its current position - a creep past the Sun and thence outbound. In the view from Earth on the website Nancy maintains, it first moves left, then up, then left some more, then right, then down. All this only for the years 1983, when Planet X was first sighted inbound by the IRAS team run by JPL, to 2003 when it arrived to creep past the Sun. If you consider this path from an overhead, rather than head on as Nancy's diagram shows, then you see this contorted path, exactly. When Planet X stopped the Earth in its orbit in December, 2003, Venus was likewise halted and trapped in the cup, and this is what you see with the two small orbs inside a circle. By June, 2004 the Dark Twin had arrived, coming up behind Earth in their shared orbit, so there were 3 planets in the cup in front of Planet X.
Thanks for your information on earth changes. I read that during your holographic presentation in November 2009, you saw that the western edge of the Pacific plate will subduct thus raising the eastern side of the Indian-Australia plate, with an additional tipping of its sideway (which I believe to be along the Java Trench), and most of the Indonesian islands will then sink.

....reading more next page

ปัจจุบัน PX ปรากฏอยู่ในบริเวณไหน กล้องจากดาวเทียมบางดวงน่าจะให้ข้อมูลได้บ้าง

Now Planet X appeared on different cameras of NASA sattelites! This is real proof of Planet X existence! Look at this perfect capture of Stereo EIVY dated by 2010.11.03. This is famous winged globe which appeared on SOHO C2, SOHO C3, SOHO EIT, Stereo Ahead and now on Stereo EIVY! So many cameras won't be erroneus? What can say about this Zetas?




This is clearly not the corpus of Planet X as it does not appear in the right position. This view from the Stereo Behind satelite is showing a portion of the vast tail of Planet X which wafts toward the Earth and the Stereo Behind satellite, which are in near proximity to each other. The tail of Planet X is pointed outward, toward the Earth, and thus the wafting tail, which is always in motion, appears between the Stereo Behind satellite and the Sun. In any case, this capture has now been removed by NASA from the image!....เป็นคอมเม้นท์จากคุณ Zeta

รายงานภาพจากมือกล้องสมัครเล่น พระอาทิตย์ดวงที่ 2

ZetaTalk Explanation 4/16/2011: If Planet X is at the 4 o'clock position when seen from the northern hemisphere, why is this Monster Sun appearing above the Sun? The same bending light phenomena that causes a pale dim monster orb to present can occur with the light from a Moon Swirl as well. Since the tail of Planet X is pointing more directly at Earth, hosed out from the magnetic N Pole of Planet X which is turning toward the Earth, the Moon Swirls as tubes will be funneling light in this manner more frequently.

The Zetas obviously were aware that Planet X would twist to hose its tail more directly at the Earth, a fact which was mentioned just last week in Issue 237 of this newsletter to be causing neon blue swirls. A sudden uptick in sunspots is another consequence of this twist. This was noted on a NOAA chart, a sudden doubling of the sunspot count. Sunspots during this solar cycle have been remarkably dearth, despite NASA's hopes that they could blame evidence of Planet X in the vicinity on the Sun. This recent NASA chart shows the dramatic lack of sunspots this cycle. But why would the count suddenly double? Per the Zetas, this is related to the Planet X twist.





ZetaTalk Explanation 4/16/2011: Sunspots have been dearth, as noted by human scientists this solar cycle. It is hardly surprising that their number would increase, as Planet X or no Planet X, this is the solar maximum time frame. Sunspots are inherently magnetic, as human scientists are aware. Sunspots had been suppressed up until recently by the magnetic S Pole of Planet X, which acts as a magneton intake. Planet X had been pointing its S Pole toward the Sun, its N Pole pointing outward in the direction of Earth.

Since Earth was always skirting backwards in its orbit, to escape Planet X coming at it in its retrograde orbit, Earth was not directly in the line of blast from the magnetic N Pole of Planet X. But the grip Planet X has on the Earth, Venus, and the Dark Twin has been tightening lately, as Planet X is outbound and is closing the gap. Looking at this drama from outer space with the N Pole of Earth topside, one would have seen Planet X slightly to the right with Earth, Venus and the Dark Twin clustered to the left. For reasons too complicated to explain, due to the approach of the April Trimester which arrives on April 20, Planet X is pointing its N Pole more to the left, toward the cluster of planets. This skews Planet X so its S Pole is not pointing directly at the Sun, no longer acting as a direct intake for magnetons from the Sun. Thus, sunspots are again appearing on the surface of the Sun.

This influence, the influence of Planet X's magnetosphere, is dominant for the Earth, unlike any influences from her sister planets - Venus and the Dark Twin, which are also shown. The Dark Twin stands behind the Earth at present, and Venus to the side.

ดังนั้น ใน Trimester นี้ ซึ่งจะไปสิ้นสุดที่เดือนสิงหาคม โลกจะได้รับอิทธิพลจากขั้วเหนือของ PX ไปโดยตลอด หากพ้น Trimester นี้ไปได้ โลกก็จะไปพบความรุนแรงของสนามแม่เหล็กของดวงอาทิตย์ร่วมกับ PX อีกวาระหนึ่ง ใน Trimester ที่รุนแรงของปี May-August 2012

เชิญทุกท่าน ร่วมสร้างบุญกุศลด้วยกัน ....ส่งต่อข่าวสารแก่เพื่อนๆ มีโอกาสชมจิ๊กซอร์ต่างๆ สำหรับนักค้นหาสาระชีวิตต่อภาพส่วนตัว ทั้ง ด้านโลกียะและโลกุตระ ที่ ainews1.com จัดไว้บริการให้แก่เพื่อนทุกเพศวัยทุกคน ฟรี ที่ลิงค์ /article385.html