จับโกหกองค์การนาสซ่า
http://www.ainews1.com/article838.html
NASA Lies Again
We knew they lied about the artifacts found on the Moon, about UFOs that zip around the ISS, about the Face on Mars and certainly they are lying about Planet X, the elephant in the room. But since they control the Hubble and the SOHO and Stereo images, and the establishment-controlled media is instructed never to challenge their statements, there is seldom proof that they lie. On occasion they get caught, and here's another such occasion. A sharp eye'd Pole Shift ning member, who earlier discovered current NASA satellite images on Modis proving the flooding on the Sunda Plate, has now discovered yet another revelation.

Last week, in Issue 275 of this newsletter, we compared the Modis images to the loss of elevation predicted by the Zetas. This week we compare to yet another view - the NASA Experimental Science Project analysis. Do they admit to the flooding that their satellite images clearly show? Heck no! This is apparently an experiment in disinformation! Will you believe NASA or your own lying eyes? The Martapura region of eastern Borneo in particular is under water, as is the region to the west of Samarinda. This is ignored entirely by NASA in their January 6, 2012 analysis!

The region from the tip of Viet Nam inland to the northeast of Ca Mau is completely underwater per NASA satellite images, yet NASA portrays this as flood free above the latitude of Soc Trang.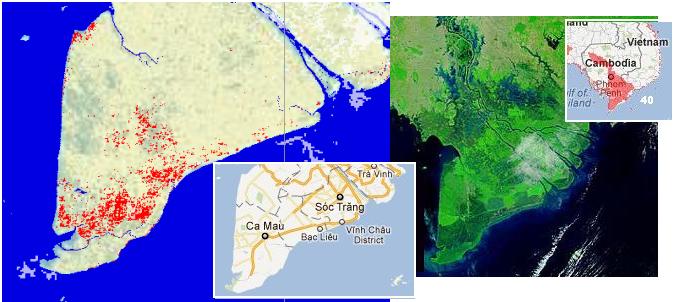 Nearby in Cambodia, flooding covers the coastline from Rach Gia up to Kompong Trach and then inland, yet this area is coded in the NASA analysis to look 99% flood free.

In eastern Java the satellite images show extensive flooding to the east of Semarang, which is likewise confirmed by videos from the cockpit of planes taking off and landing from the airport there, as documented in Issue 273 of this newsletter. Nor does NASA admit to the extensive flooding to the west of Surabaya, plunging inland and the inland flooding above Surakarta, clearly visible on the satellite images.



And in western Java, from Jakarta eastward to the coastal city of Breges Regency, flooding is obvious on the NASA satellite images, as is the erosion of seawater inward from the southern coast at Kawungganten up toward Bandung. NASA admits to almost none of it.